We help

businesses get efficient.

implement innovative solutions.

get the right resources.
Canada's trusted Consulting and Staffing Services firm
We are NOT that IT Professional Services group full of know-it-alls...
Your people are at the heart of every successful initiative. At Linden, our approach as a leading provider of IT Consulting and IT Staffing is to work with your teams that know the business and technology best to implement lasting changes with the right approach and innovative leading practices. We can provide full turnkey solutions with implementation services or augment your project teams with skilled qualified resources to provide the boost you need.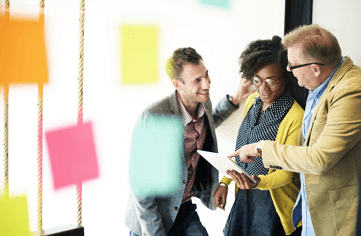 Linden assumes ownership for outcomes with our IT talent management expertise to extend the value of our client partnerships and deliver measurable business outcomes. A pragmatic approach to delivery and managed services are always used to maintain alignment with the business case. From use of traditional Waterfall to Hybrid or Full Agile, Automation, Artificial Intelligence, Robotic Process Automation and other techniques we are confident that we can bring value to your most complex IT delivery programs.
Our unique recruiting process is the enabler to our successful placement track record. It starts with a deep understanding of your business needs, the skillset required and fit to the organization. Our extensive contractor network gives us the ability to attract and retain the right IT professionals critical to Linden's success and the business's competitive advantage. Finally, we manage the contract process in a way that reduces risk and ensures both clients and contractors can focus on the tasks that matter most.
WHY CHOOSE LINDEN?
Testimonials from our clients...
"Linden's work is of such outstanding quality, they took full ownership of the program's budget and time constraints."
— Director of Application Development, Agency of the Provincial Government of Ontario
"One of the best post implementation support experiences we have ever had was with Linden."
— VP of Operations, Canadian Crown Corporation of the Government of Ontario Government
"Linden just knows the type of individuals we need to deliver our work. Our go-to team for all our staffing needs."
— VP of Wealth Technology, Large Canadian FSI
Please browse some of our current opportunities:
Don't see anything below that fits your interest or profile? Just send us an email of your resume and someone will contact you to have a dialogue of how we can help.
Sr. SQL DBA
JAVA Developer/Designer (C)
Oracle DBA (C)
.Net Developer (C)
Application QA Tester (C)
Application Architect(C)
Request a Call Back
Send us an email and we'll get in touch shortly — we would be delighted to speak about how we can help improve your business performance.